Here's What Our Customers Are Saying
Ben was friendly, funny and efficient! Very easy to have around as we did the last of our cleaning for the house move. Highly recommended.
Great service as always and thoroughly recommended. Our wood burner is less than straight forward to service but Ben's knowledge and expertise managed to successfully do so quickly and with no mess. Also really handy to get some safety advice that is easy to overlook.
Ben was really friendly and professional. Excellent service and I would certainly recommend him.
"Brilliant service, incredibly efficient and very professional. I would highly recommend Clean and Go. They will also advise about any safety issues which is incredibly important and very helpful."
Great, friendly and professional service, with excellent advice on how to get the best from our wood burner. Definitely recommend and would use again.
"We just made use of Clean & Go's services for cleaning our chimney, and I would highly recommend them to anyone. Ben was very professional, friendly and did an excellent job - particularly in the face of some unforeseen challenges with our wood burner. I think the living room was actually cleaner after he had finished than when he arrived! As well as the cleaning service, Ben provided us with some much needed advice on safety and usage - most welcome as the wood burner came with the house and we've never used one before. We'll definitely be using Ben and Clean and Go again and I can highly recommend them!"
"Ben and Steve, greetings. What a duo you are !! There is not a molecule of discernible dust in my old, tatty house. You did a fantastic job. Not only that, you wore bright blue gloves, (which made me laugh, if only internally...), didn't object to my raucous banter, and were yourselves very entertaining. I shall certainly recommend you to my friends. Best wishes,"
A brief outline of our Services and Prices
Chimney Sweeping
Open Fires
Stoves – Wood Burners & Multi-Fuel
Cookers & Boilers (flue sweeping)
Gas & Oil Flues
Safety Advice
Bird's Nest Removal
CCTV Overview
Our standard  price for sweeping a chimney or stove flue is just £70 (No VAT).
There are occasionally a few factors that may impact on the standard price. 
Please check full details which you will find on our prices page.
Clean & Go is a local family business established in 2001 and operated by me, Ben, and my wife Esther.
We love living and working in Bath and have really enjoyed building up a loyal customer base, as well as getting to know many new clients along the way.
"We're a modern chimney sweeping business but with a traditional family business service"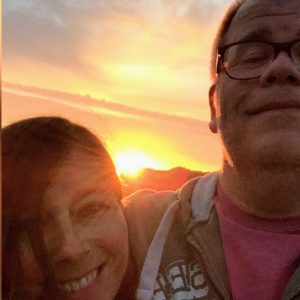 Why choose us to sweep your chimney?
This gives you a rough idea of the areas we cover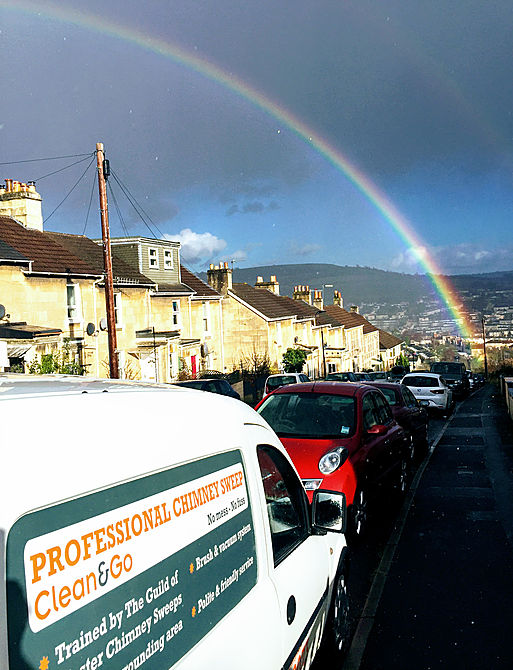 By the way, if you live in Bristol then we'd highly recommend that you contact Steve @ www.sweptclean.co.uk
We're busy sweeping chimneys in:
Bath,
Box,
Bradford on Avon,
Corsham,
Freshford,
Holt,
Keynsham,
Limpley Stoke
Marshfield,
Midsomer Norton,
Paulton,
Peasedown St John,
Radstock,
Saltford,
Timsbury,
Trowbridge,
And all the areas in between and nearby!
So how often should you get your chimney or flue swept?
A lot depends on the type of fuel you are burning.  See the list below:
Smokeless coals: At least once a year
Wood: At least once a year
Bitumous [house] coal: Twice a year
Oil: Once a year
Gas: Once a year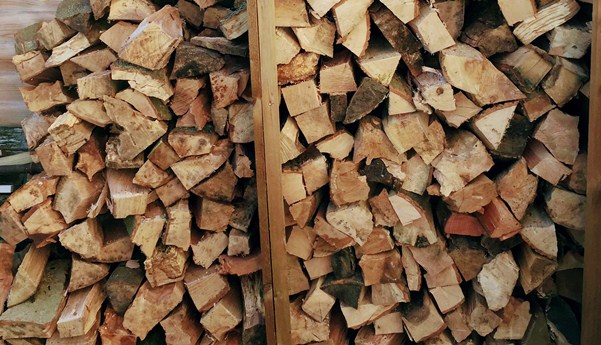 Another factor is how often you use your fire or stove.
If you use it more than a few times a week over the burning season you my well require a sweep half way through.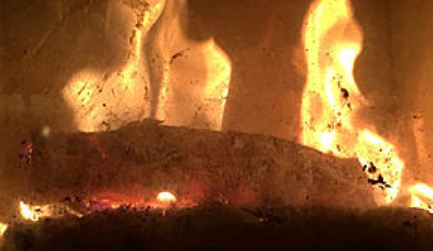 Do you have a stove?
Many people incorrectly assume that stoves with a stainless steel liner do not need to be swept. This could prove to be a costly mistake. For safety and efficiency, regular sweeping is essential to remove deposits that can build up eventually blocking the flue.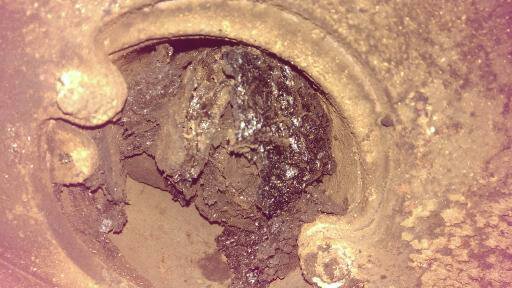 5 Steps to getting your chimney swept
A SWEPT chimney is a SAFER chimney
The alternative service to calling us to sweep your chimney. The Avon Fire & Rescue website has some really useful information.
Call 01225 830073 to book an appointment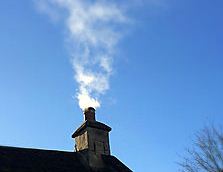 What am I allowed to burn?