Frequently Asked Questions
Do I need to do anything in preparation for having my chimney swept?
Not really but here's a few helpful tips in our short InfoVid.
So in summary:
Don't have the fire alight – I know, but it really has happened before. So please don't light your fire on the day of the sweep, in fact it would be good not to use the fire the evening before if possible.
You don't need to cover furniture or remove ornaments from the mantlepiece but it would be useful to remove any ornaments from the hearth.
It's helpful to have a clear working are of 3-4ft in front of th hearth. It's also helpful to have a clear walkway in and out of the room.
Will there be any mess?
This is a very commonly asked question. The simple answer is no, this is very much an issue from the past that has gone away. We carefully mask the front of the fireplace or stove and use a high powered HEPA vacuum to control dust. We also cover a sizeable floor area in front of the hearth.
The only time there may be a little concern in this area is if a bird's nest is being removed where it is not always possible to fully sheet the front of the fireplace. Even then it has been my experience that dust has been very well controlled.
How often should I have my chimney swept?
As a rough guideline see the list below:
Smokeless coals: At least once a year
Wood: At least once a year
Bitumous [house] coal: Twice a year
Oil: Once a year
Gas: Once a year
See more details by here.
I have a woodburner / multi-fuel stove, does it still need sweeping?
Absolutely YES. I don't know why but it is common misconception that stove flues don't need sweeping and it could prove to be a very dangerous and expensive one.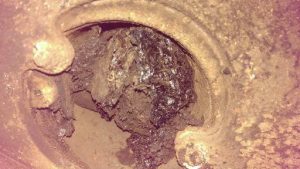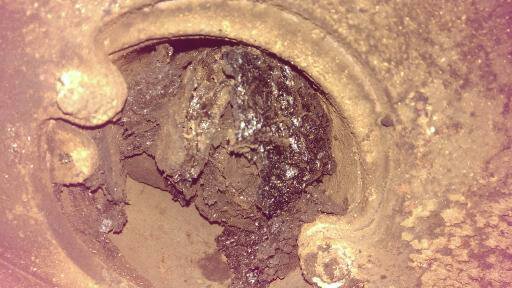 The image here shows the outlet of a stove that hadn't be swept for at least 4 years. As you can see it was almost complletely blocked and would cause dangerous levels of carbon monoxide to escape into the room.
Stoves flues should be swept at least once a year.