So, no surprises here – we sweep chimneys. We take great care to ensure that your property is kept clean and free of soot and dust. We cover carpets, move furniture where necessary and use a high power HEPA triple filtration vacuum cleaner.
We use traditional rods and brushes but apply modern techniques, so the days of soot and dust everywhere are very much a thing of the past.
Stoves - Wood Burners & Multi Fuel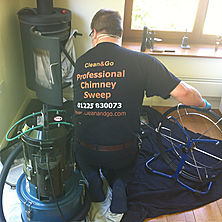 We use modern specially designed equipment to sweep stoves connected to flexible liners. One of the most common misconceptions we come across is the belief that stoves don't need sweeping. A modern installation with a flexible liner should be swept regularly as the relatively small flue (often just 5" or 6" diameter) can become clogged up with creosote sooner than a traditional brick chimney flue.
If you're looking to install a new stove of need advice or a repair carrying out on an existing installation then we'd highly recommend that you contact Chris Clements at Bath Wood Burners Ltd.  Possibly Bath's best stove installers.  https://www.bathwoodburners.co.uk/
A major part of our role as a professional chimney sweep is helping to ensure the safety of you and family. This may include advice about your installation, ventilation and the dangers carbon monoxide. We'll also provide friendly advice about the best way to use your appliance if required.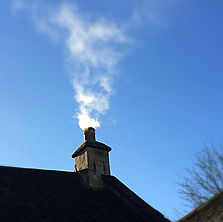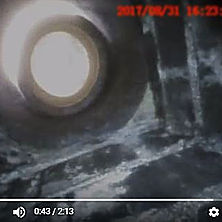 There are times when something just doesn't seem right about your chimney or flue. It's often only possible to actually see the first few feet of the bottom of the flue so we can use our CCTV night vision camera to see the parts of the flue that are normally out of sight. We can then show you or even provide you with a recording of what the camera finds. This can be very useful if any remedial work is required to correct a problem. This can be very useful when dealing with the removal of a bird's nest.
Shiny little Jackdaws – master construction engineers! Early in spring you'll see many of these little fellows hanging around the warm air venting from the top of chimneys. Twig by twig they come and go dropping one at a time down the chimney pot until they catch on the sidewalls. They then continue to drop more and more twigs, one at a time, often many hundreds until they get high enough to build the actual nest containing everything from moss to stockings to cigarette filters.
This marvel of construction can completely block a chimney and must be removed if it is to be used. Hard work but just of the challenges we undertake as a professional chimney sweep. Of course we respect the life of nesting birds and their young so we won't remove nests during the breeding season.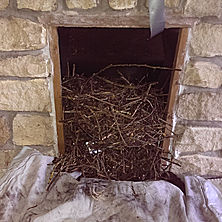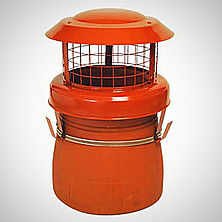 As a dentist will tell you, prevention is better than cure and this is very true when it comes down to preventing birds building nests in your chimney. We always recommend Chris Clements at Bath Wood Burners Ltd for fitting Bird Guards or Chimney Capping.  To get in touch with him see his website: https://www.bathwoodburners.co.uk/
5 Steps to getting your chimney swept