What do you know about carbon monoxide (or CO)?
You can't see it -You can't smell it – You can't taste it.
It's a poisonous gas that can make you seriously ill or even kill you – quickly and without warning.
Many people wrongly believe that carbon monoxide (CO) is a problem associated only with gas appliances. Actually, all solid fuels including wood, coal & smokeless fuel, will also produce carbon monoxide as a result of incomplete combustion.
In fact all carbon fuels can produce carbon monoxide when burnt in an enclosed space. Obviously your home is an enclosed space.
As a professional chimney sweep, as well as sweeping your chimney, I'll advise you to install a Carbon Monoxide alarm if you don't already have one. It's worth noting that if there's a problem, solid fuel appliances can create many times more carbon monoxide than gas appliances.
To be honest, when I visit houses in and around Bath, I find that some people don't, or sadly just won't, appreciate the potential danger of Carbon Monoxide from their open fire or stove.
So please follow the links below if you still need convincing or would like more information.
They are from three credible organisations: the CO-Be-Alarmed, the NHS and the Health & Safety Executive.
http://www.co-bealarmed.co.uk/
http://www.nhs.uk/conditions/carbon-monoxide-poisoning
http://www.hse.gov.uk/gas/domestic/co.htm
PLEASE BE CARBON MONOXIDE AWARE – INSTALL A RELIABLE CARBON MONOXIDE ALARM – HAVE YOUR CHIMNEY SWEPT REGULARLY.
Around 9000 chimney fires are reported in the UK each year.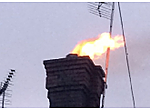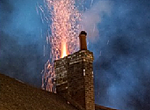 The rise in chimney fires in the UK is largely due to homeowners being unaware of the importance of keeping their chimney clean and clear.  This includes steel liners.
The good news is that you can make your chimney far safer by having it swept regularly.
Chimney fires can be caused by:
The build-up of soot and tar on your chimney walls
Birds' nests and other debris in your chimney flue
Using unapproved fire lighters or flammable liquids
So what have you got up your chimney?
Lighting a fire under a blocked chimney could put your home at serious risk.  It is imperative that you have your chimney cleaned regularly to minimize the risk of your chimney catching fire.
It is strongly recommended by Avon Fire & Rescue Service that you have your chimney swept at least once a year – sometimes more frequently depending on the type of fire.  Do you know when the last time was that your chimney was swept?
If you haven't had your chimney swept in the last year please do get in touch.  I'm more than happy to have a "no obligations" chat with you about your requirements as part of the professional chimney sweeping service that I offer.
See the links below from Avon Fire & Rescue who would actually rather you call a chimney sweep than end up having to call 999!
[Click to read: Chimney fires spark safety plea]
[Click to read: Unswept chimney sparks fire]
If your Carbon Monoxide alarm goes off or you suspect Carbon Monoxide poisoning you should immediately evacuate into fresh air and seek medical advice (this may include calling 999).
There is excellent detailed information at